Psoriasis Wrist-to-Bicep Sleeve that Comforts, Cushions and Covers Psoriasis Sleeves were initially developed to inhibit forearm skin tears and elbow bruising among people who have especially fragile skin. Then we discoverd that these garments could help those with psoriasis too, while also providing a stylish look that makes them enjoyable to wear. Slip one onto your arm and make it a staple of your care. These sleeves offer a convenient method for holding bandages in place, when you're asleep or going about your daytime activities. Discover how easy these psoriasis sleeves are to maintain, even after numerous washings with traditional clothing. Take a look...our product comes armed with a lot of important advantages!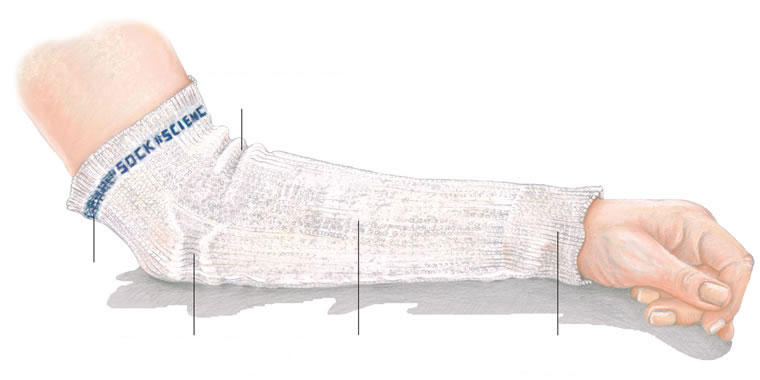 Easy to read sizes
are clearly labeled
Flexible material provides
extra room and comfort.
Contoured shape allows
elbow to move naturally.
Breathable mesh knit
combines function and fashion.
Wristlet rolls up easily
to simplify daily routines.
To examine the details of the knitting and fitting, please explore this close-up photograph.
Tapered fit follows contour of arm to allow natural bend.
Carefully selected yarns prevent wicking of creams/ emollients. Breathable material is cushioned for protection, yet smooth against the skin.
Resilient fabric easily tolerates numerous traditional washings, for economical alternative to disposable garments.
Loose roll cuff adjusts easily for eating, washing hands and other routines.
Attractive sweater-like appearance gives patient Incentive for continual wear.
Choosing the correct size To select the proper size, measure around the widest part of your forearm. If your measurement is about 7 1/2" to 9", try our Medium size; a reading of about 9" to 10 1/2" corresponds to our Large size. The size (either M or L) is clearly stitched into the blue band at the top of each sleeve. When applying the sleeve, carefully roll it up the arm to avoid stretching thin, fragile skin. Additional instructions for applying the sleeve, washing it and caring for it are included with each sleeve. We encourage you to read all directions before using. Ready to feel the difference? To purchase these sleeves click here.
Your Comfort Guarantee - Try a Free Sample We guarantee you will be comfortable wearing our psoriasis clothing and doing business with us. After wearing a pair of our sleeves, if you are uncomfortable with any aspect of our products or service, keep one used pair as a free gift and return only the unused sleeves, for a complete refund of all charges (sleeves, taxes plus shipping) that were applied to your account. Still not comfortable? Then just call for one free sleeve sample: 1-800-514-0003.
The Service Behind the Science At Sock Science our company evolved into what it is today with your help. After much research and talking with our clients, nurse practitioners and others in the health care field, we recognized no one had properly addressed this need for people with psoriasis...skin protective underwear, socks, pajamas and clothing with the look and feel of quality garments. We've started with psoriasis sleeves and psoriasis socks, with more garments to follow soon. If you have special clothing needs, we'd loive to hear your requests. Sock Science is committed to producing aesthetically appealing sleeves and socks that offer comfort, fashion, fit and easy washability. Knitted with carefully selected yarns that cushion in all the right places and taper in an anatomically correct shape, our protective arm sleeves feature the perfect blend of materials for effortless functionality.